Every two to three years, The Eichler Home Tour in San Mateo occurs, giving the locals and lovers of architecture a tour of homes designed by Joseph Eichler, a renowned mid-century modern home builder in California. These homes played a significant role in shaping the mid-century modern architectural movement in the United States. This year, the event is on October 14th and 15th from 10 am - 4 pm, so grab your walking shoes and join us for a fun-filled weekend in the San Mateo Highlands.
The Sternsmith Group is proud to be a platinum sponsor of the Eichler Home Tour. We hope you'll come by and say Hello as we will be hosting one of the homes. Follow our Instagram to know our exact location.
History of Eichler Homes
Joseph Eichler was a real estate developer who built thousands of homes in California between the late 1940s and the 1960s. His homes are famous for their modernist design, which was influenced by architects such as Frank Lloyd Wright, Mies van der Rohe, and the principles of the Bauhaus movement.
Eichler Homes are known for their distinctive architectural style, characterized by open floor plans, flat or slightly sloped roofs, large windows, glass walls, and an emphasis on indoor-outdoor living. This style was designed with the Bay Area's climate in mind and stood out from the traditional home, giving way to the 'California Modern' home.
San Mateo Highlands Neighborhood
San Mateo Highlands is a beautiful and peaceful residential neighborhood in the San Francisco Bay Area, known for its mid-century modern homes, natural beauty, and convenient location. Bounded by the Crystal Springs Reservoir and the city of Hillsborough to the west, Highway 92 to the north, and Interstate 280 to the east, it offers a comfortable suburban lifestyle while being close to the amenities and job opportunities of the larger San Francisco Bay Area.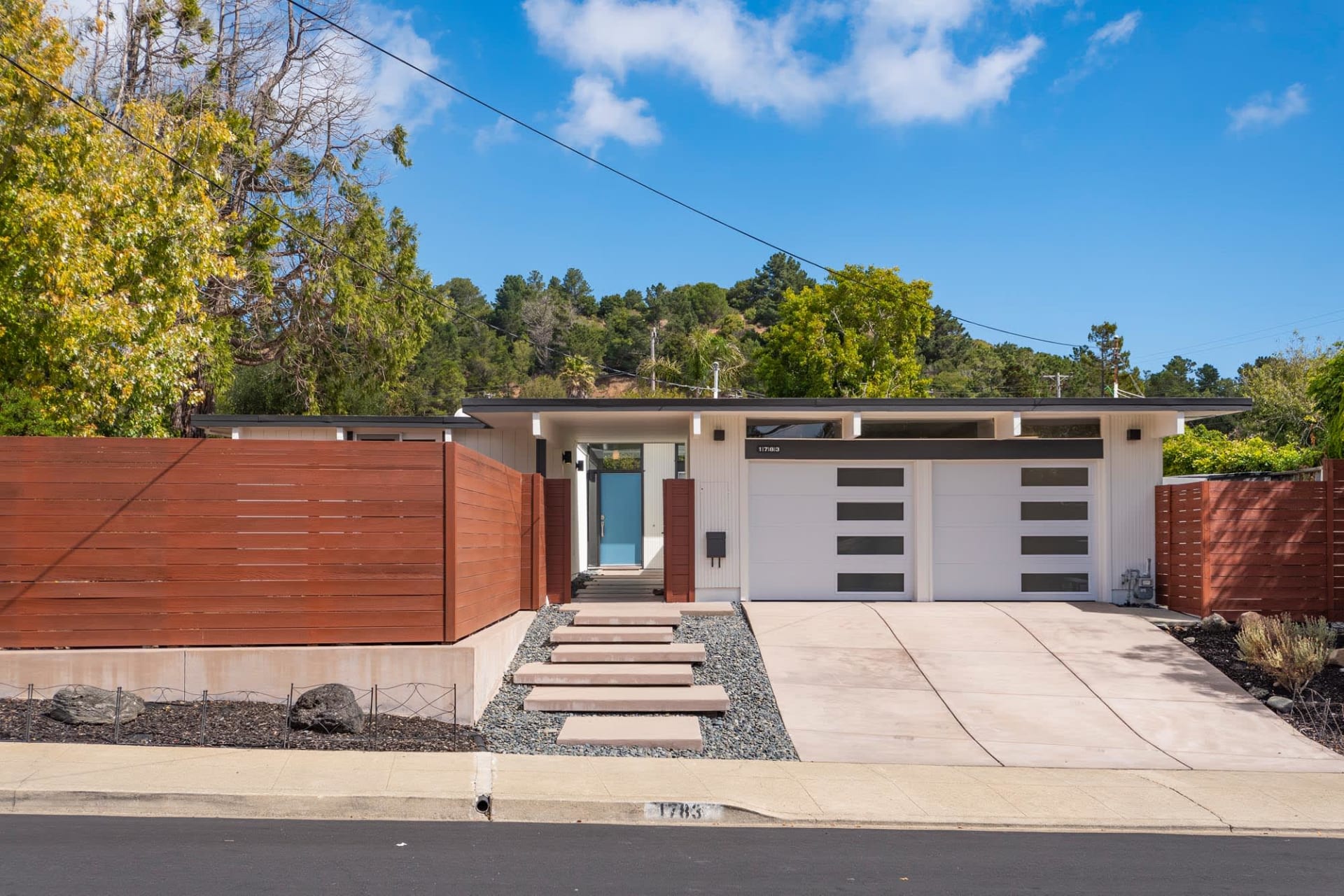 Event Details
Date & Time: October 14-15th 10 am - 4 pm
Check-in: 9:30 am at 1851 Lexington Ave. San Mateo
Tickets: https://www.eichlerhometour.org/tickets - 100% of net proceeds benefit the Highlands Elementary School PTA. In 2017, over $90K was raised.
The VIP Party on Friday the 13th is sold out for this year, but keep your eye out for future events to join in on the festivities.
During the main event, you will get to tour 12 incredible Eichler homes, and your ticket includes a tour book and swag bag to take home with you. There will be builders, architects, designers, and homeowners available to answer your questions, a book signing by Karen Nepacena from 'Destination Eichler,' and artists and furniture dealers selling mid-century modern decor.


Tips To Making It A Great Day
It is a long day, so make sure you bring comfortable shoes, and a free shuttle service will be provided in certain areas. There will be plenty of parking available, so please make sure not to block any driveways or disturb the neighbors during the tour.


Food trucks will be on-site at the school, however, you can bring your own picnic if you prefer.


Please note the photography is at the permission of the homeowners and respect any 'no access' signs as well.


No children under 12 are permitted. You can carry a baby in your arms, but no strollers are allowed inside the homes.



Had a blast at a previous event and would love to volunteer? You can

sign up here

to help make the event a success and help the goal of raising $100k for this year's event.
Eichler Home Tours are a fantastic opportunity for architecture and design enthusiasts to experience the beauty and innovation of mid-century modern homes. They provide a glimpse into the past while showcasing the enduring appeal of Eichler's architectural vision. If you would like more information about the Highlands neighborhood or the Eichler Home Tour, contact the Sternsmith Group today!